Here is a collection of miscellaneous useful information for your travel in Italy:
See also our tips for driving in Italy.
---

In case of emergency, the pan-European emergency number to call is 112. In Italy 113 is also in use.
---

1. Seek ATMs
ATMs in Italy are known as Bancomats, are widely available: just look for the sign on the left. They accept all ATM cards, and dispense the cheapest form of Euros at 1% over the wholesale exchange rate applied to transactions of $1M or more. Arriving at Malpensa airport, you will find a Bancomat inside the "B" luggage claim by carousel 6, and two in the arrival area: one located between exits 4 and 5 across the hall, and another nearby hidden behind a column next to the up escalator; they are all operated by Banca Nazionale del Lavoro. In downtown Biella there's a Bancomat almost every corner, and one in the same building as the hotel Agorà.
2. Avoid change bureaus!!
This is a sure way to increase your costs by 6-10% (or even more!). Stick to ATMs and credit cards. There's no need to buy Euros before your trip: in case of an emergency before you reach an ATM in Italy, anyone will accept your U.S. dollars!
---
1. Choose your card
Many U.S. credit card issuers (like Citi, Chase, First USA, BofA, MBNA) add a 3% fee on foreign purchases, which is money wasted for no work on the banks' part; check with your issuer for their terms. American Express' fees are about 2.1%. Capital One is a notable exception to this unsavory practice, so use one of their cards if you have it or apply for one of their free cards and buy yourself something nice with the 3% you keep in your pocket.
2. Always turn down conversion to dollars
Avoid "dynamic currency conversion" of your foreign charge into U.S. dollars. These days, some merchants try to con you into paying in dollars, not because it's any better for you (it isn't) but because those merchants hit you up with an invisible fee (often 5%) by converting at an inflated exchange rate. Bee on the lookout (many time personnel on a commission doesn't bother to ask you), and signing receipts only if they're in the local currency—they legally cannot turn you down.
---
Italian weather forecasts are notoriously bad, and Italy has many mountains and hills that create lots of microclimates which the local forecasting office completely ignores (until recently they wouldn't even forecast the temperature!). For the area around Milano (including Biella) the forecast for South Switzerland published by Switzerland's MeteoSwiss is the best (click on "detailed forecast" for a 5-day forecast); for the rest of Italy there generally isn't a good source, although Tempo Italia seems a bit better than others (but still plenty wrong). There truly is nothing like the U.S.' National Weather Service! For a guide to converting between °C and °F click here.
---
Wi-Fi in Italy is very hard to find, especially the free kind, mostly due to idiotic government restrictions that force the access provider to collect ID information of it users (of course, all in the name of antiterrorism). Most hotels provide very expensive service, and make sure you contact them ahead to confirm availability and pricing.
---
You can connect for the cost that is less than a local call (but check with your hotel, as they often charge 8x as much!) anywhere in Italy with the following settings:
Services are provided by Telecom Italia. If you need an outbound (SMTP) email server, try out.aliceposta.it or mail.tin.it or see you mail service provider help pages.
---

Italy (and most of the world) uses the GSM 900/1800 and UMTS 2100 mobile phone standards, which are in different frequencies than the ones used in the U.S. (GSM 850/1900 and UMTS 850/1900). However, some U.S. GSM operators offer tri- or quad-band "world phones" that work in Europe, and some non-GSM operators offer dual-technology phones that work there as well.
If you have one of these phones, you most likely need to check with your operator to ensure that roaming is allowed and to check on prices, which are usually astronomical. A better alternative is to buy a prepaid "SIM" card for your phone in Italy (calls are about €0.15-0.20 per minute outbound, free inbound)—just make sure that the phone is not "SIM locked". If you have a locked iPhone you may be able to unlock it by following instructions here. With an Italian prepaid SIM you can also get an inexpensive mobile data plan, such as one that costs €20 for whopping 1GB of data within a month.
You can also rent a phone with service, either in Italy or before departure. At Milano's Malpensa airport you can rent from the Eurochange Business Centre; prices are very high so call them ahead at +39 02 5858 1074 to make a reservation and confirm prices. For renting a phone in the U.S. before you leave, check out a Google listing.
---
Most payphones accept coins, and all accept the prepaid "scheda telefonica", which can be purchased at any newsstand, post office, tobacconist, supermarket and most bars, and comes in multiple denomination starting at €1. Calls to Italy landlines are €0.10 per 55 seconds; calls to N. America and Europe are €0.91 first minute, €0.61 thereafter (in 11 second increments).
For international calls, you can buy a card called "Time", Telecom Italia's prepaid international card. Calls to N. America and Europe using this card are only €4¢ per minute. The card is available in denominations of €5, €10 and €25. A similar card, "No Distance", costs €12.7¢ per minute.
Take note that these prices are much lower than those of a calling card issued by AT&T, MCI, Sprint, etc. A ten minute call at AT&T's "standard" calling card rates is a whopping $27.74 (plus taxes)—the first minute alone costing $4.15 (plus taxes). The only exception is if you signed up for a special international plan that includes calling cards (most don't), like AT&T's "International Anywhere Plan" (which is no longer offered).
Phone numbers in Italy start with 0 if landline, 3 if mobile; you need to dial all the digits all the time. To direct-dial international, dial 00 + country code + phone number (e.g. 00-1-415-555-1212). Directory service for Italy is available by dialing 1254 and is extremely expensive (€2 for a call a bit over 1 minute); it's free on the internet at http://1254.virgilio.it/
---
All prices are inclusive of service, including at restaurants, and tipping is not practiced (just look around). Exceptions to this rule is rounding up a taxi fare or a restaurant bill to the next Euro, and repeat customers who may leave a small coin (5¢ or 10¢) at the bar with their daily caffè. If a toilet is attended and there's no posted price, tip the attendant 20-50¢—only if the place is kept clean! Porters have published rates, and hotel bellhops are paid by the hotel for their job but those of 5-star hotels are used getting something from their mostly American clientele.
---
Petty theft is endemic in Italy. Lost items are rarely returned, and high-tourist areas (Biella does not qualify) are magnets for pickpocketers and purse-snatchers, the latter even on motor scooters.
Luggage not in the truly immediate vicinity is also prime candidate for snatching; if you are traveling by train consider buying a cable lock as modern trains have luggage racks that are not visible from your seating area.
Never leave anything in sight in a parked car, and never leave a car unlocked.
Also check your restaurant bills carefully: in tourist cities, manually calculated bills often have an incorrect summation and/or you may be billed for extras you didn't order.
---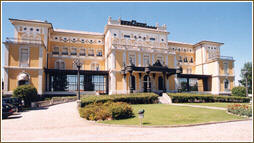 If you have an early morning flight and you prefer to spend the night close to the airport (which is a 45 minute train ride away from downtown Milano, or over 1hr and €80 in rush hour by taxi), the closest hotels are Villa Malpensa, the Crown Plaza, a Holiday Inn Express and the First Hotel.
---
Avoid Eurail passes

Eurail has nothing to do with the rails themselves, and are just an expensive intermediary. Especially bad are their "passes"
—
they are "gravy" to travel agents and earn them huge commissions, so they'll be pushed on you. You're much better off buying tickets at any travel agency or railway station (or even hotel concierge!) in Italy.
Example (as of 3/06): traveling in 1st class on the high-speed trains from Milano to Bologna, then to Firenze, then to Napoli, then back to Roma (a whopping 650 miles and 4 days of travel) will cost you

€

146.68 (about $160) in Italy – fully refundable and changeable. The Eurail regional pass would set you back $318, would not be refundable
, and requires you to line up at the station's ticket counter in Italy to validate it.
---