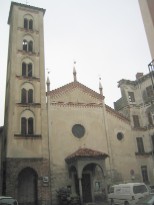 The Church of San Giacomo was consecrated in 1227 and has been restored several times, but the facade still present the gothic crowning of pinnacles and small arches in terracotta from the XIV century. The clock tower, next to it, is more recent, while the portico of entrance is from the 1600s. The interior is in three naves and has substantially kept the original wall structure, which has been decorated in faux marble in 1862; the pavement was lifted by about two meters in the 1500s. In the right nave is the urn with the body of the blessed Agostino de Fango and a canvas with Episodes of the life of the Beato (Blessed), of Luigi Ciardi (1877); at the end of the nave is the statue from the 1600s of the Madonna of Oropa.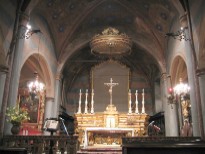 The altar is by the sculptor Pietro Antonio Gillio (1773) and is surmounted by a wooden crucifix of Carlo Francesco Aureglio (1748). In the abside is a nice chorus from the late sixteen hundreds sculpted by the cutter Tempia di Mirtigliengo and a large painting portraying the Martyr of San Giacomo (1791), which will be unveiled after a lenghty restoration on 19 May for the wedding.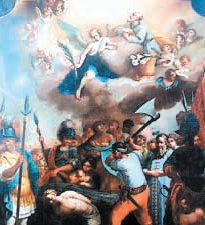 On the left wall a nice triptych of Daniele De' Bosis, signed and dated from 1497, depicts the Madonna with the Child, S. Giacomo, S. Gottardo and the donor Giacomo Dal Pozzo. At the end of the left nave is an altar from the late sixteen hundreds behind which an elegant fresco from the fourteen hundreds, part of the old altar of the Scaglia family, was discovered; next to the door to the sacristy is a painting from the fifteen hundreds of the Madonna with the Child and Saints attributed to Pseudo Giovenone. Behind the baroque baptistery, carved by Pietro Giuseppe Aureglio Termine in 1728, we notice the altar from the seventeen hundreds formerly dedicated to S. Giovanni Battista, work of the sculptor Giovanni Antonio Vaglio of Pettinengo.

Many pews have noble coat of arms sculpted on them, several of which dating from 1799.